大河号
> 正文
【双语新闻】出彩中原·我们共同见证(创新篇)④|加快建设人才强省
Editor's note: Innovation will remain at the heart of China's modernization drive, General Secretary Xi Jinping remarked in the report delivered to the 20th National Congress of the Communist Party of China. Seizing the opportunity of China's initiative to optimize regional innovation layout, during the 14th Five-Year Plan period (2021-25), Henan will fully implement the strategy for invigorating the province through science and education, innovation and talent cultivation, and keep perfecting its institutional support for innovation to build new strengths for development in an all-round way. Starting November 1, we are launching the "Wonderful Henan·Here We Are (Innovation)" series to show you the measures Henan will take during the 14th Five-Year Plan period to build an innovation highland in Midwest China. The following is the 4th story of the series: A province strong in talents to be built.
编者按:习近平总书记在党的二十大报告中提出,要坚持创新在我国现代化建设全局中的核心地位。抢抓国家优化区域创新布局机遇,"十四五"期间,河南将深入实施创新驱动、科教兴省、人才强省战略,不断完善创新体系,全面塑造发展新优势。11月1日起,大河网推出"出彩中原·我们共同见证(创新篇)"双语系列报道,看河南在"十四五"期间如何打造中西部创新高地。今日推出第4期:《加快建设人才强省》。
Click on the video
NB: This is not a word-for-word transcript
A Strong Province with Talents
加快建设人才强省
We will persist in showing respect for work, for knowledge, for talent and for creativity, deepen reforms of talent development mechanism as well as cultivate, attract and make the best use of talents in an all-round way, thereby striving to create new platforms where talents converge, prefer to start businesses and energetically exhibit their capacities.
坚持尊重劳动、尊重知识、尊重人才、尊重创造,深化人才发展体制机制改革,全方位培养、引进、用好人才,努力打造人才汇聚新高地、人才创业优选地、人才活力迸发地。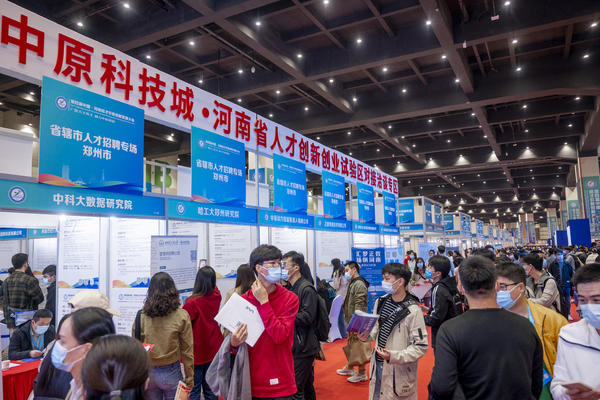 The 4th Talent Recruitment & Project Matchmaking Event in Zhengzhou. [Photo/Henan Business Daily]
Strengthening talent cultivation
加强人才培养开发
We will carry out the Plan for Central-Plain Talents to cultivate a number of scholars, leading talents and young top-notch talents in Henan, produce a number of famous cultural experts, teachers and doctors in Henan, and create a series of talent brands here. We will put more energy into the training of innovative talents, improve the long-term and stable mechanism to support basic research personnel training, and also the inclusive support measures for young talents. We will push forward the "talent + team + fund" model to nurture and produce a batch of international-level strategic sci-tech talents, leading sci-tech talents, young sci-tech talents and top-level innovation teams. We will improve the classified training mechanism for university personnel, expand the training scale of master graduates, Ph.D. graduates, and other high-level personnel, and carry out international cooperation in innovative talent training. We will keep the application-oriented and skill-based talent team growing, implement knowledge renewal programs, and continuously push forward the nationwide skill revitalization program and the plan to invigorate highly skilled personnel. We will focus on cultivating talents in key fields such as big data software development, intelligent manufacturing, international trade, modern logistics, e-commerce, ecology, environmental protection, culture, tourism, domestic service, medical treatment and healthcare. We will carry out vocational skill competitions, build a skill-based society, newly breed more than 750,000 highly skilled personnel and a number of great craftsmen in Henan. We will uphold entrepreneurship and the business spirit of the new era, create a preferable environment for the growth of entrepreneurs, carry out projects to improve the professional accomplishment of entrepreneurs, so as to create an outstanding entrepreneur wild-goose-array effect with about 100 leading entrepreneurs, 1,000 key entrepreneurs and 10,000 growth-oriented entrepreneurs.
深入实施"中原英才计划",培养一批中原学者、中原领军人才、中原青年拔尖人才,造就一批中原文化名家、中原教学名师、中原名医,打造中原人才系列品牌。加强创新型人才培养,完善基础研究人才培养长期稳定支持机制和青年人才普惠性支持措施,推行"人才+团队+基金"模式,培养造就一批具有国际水平的战略科技人才、科技领军人才、青年科技人才和高水平创新团队。健全高校人才分类培养机制,扩大硕士、博士等高层次人才培养规模,开展创新型人才国际合作培养。壮大应用型、技能型人才队伍,实施知识更新工程,持续推进全民技能振兴工程和高技能人才振兴计划,着力培养大数据、软件开发、智能制造、国际贸易、现代物流、电子商务、生态环保、文化旅游、家政服务、医疗健康等重点领域人才,开展职业技能竞赛,建设技能型社会,新培养75万人以上高技能人才和一批"中原大工匠"。弘扬企业家精神和新时代豫商精神,营造企业家健康成长环境,实施企业家素质提升工程,形成百名领军企业家、千名骨干企业家和万名成长型企业家的优秀企业家雁阵。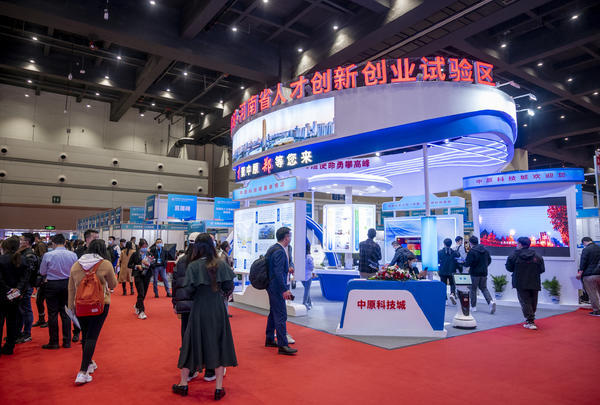 The 4th Talent Recruitment & Project Matchmaking Event in Zhengzhou. [Photo/Henan Business Daily]
Making Greater efforts to bring in talents
更大力度引进人才
We will formulate and implement a more competitive and attractive talent policy, improve the mechanism for foreseeing talent demands in key sectors and industries and the mechanism for regularly releasing the to-be-introduced-talents list, give better play to the role of the China-Henan Innovation and Development Conference and other platforms, continue to carryout special activities outside the province to attract talents and the round-the-clock online activities, expedite the introduction of a number of urgently needed and high-level professionals, and continuously promote the project of introducing postdoctoral talents. We will perfect the talent-attracting mechanism which allows both full-time work and flexible hours, and thus encourage intellectual resources to converge by approving part-time or temporary posts, technology consultation, project cooperation, weekend teaching and special researcher posts. We will breed our international vision in attracting talents, launch a special campaign to attract high-end (overseas) talents, promote the building of returnees' entrepreneurship parks, international talent communities and overseas talents' offshore innovation and entrepreneurship bases.
制定实施更有竞争力、吸引力的人才政策,健全重点领域、重点产业人才需求预测预警和引才目录定期发布机制,更好发挥中国·河南招才引智创新发展大会等载体平台作用,持续开展招才引智省外专场活动和全天候线上活动,加快引进一批急需紧缺和高层次人才,持续推进博士后人才引进工程。完善"全职+柔性"引才引智机制,鼓励通过兼职挂职、技术咨询、项目合作、周末教授、特聘研究员等方式汇聚人才智力资源。拓宽引才国际视野,实施高端(海外)人才引进专项行动,推进留学人员创业园、国际人才社区、海外人才离岸创新创业基地建设。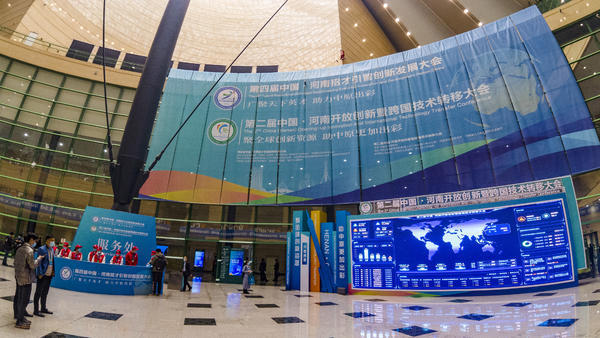 The 4th Talent Recruitment & Project Matchmaking Event in Zhengzhou. [Photo/Henan Business Daily]
Stimulating creativity of talents
激发人才创新活力
We will improve the evaluation system for scientific and technological talents based on their innovation ability, eligibility and contribution, give enterprises and public institutions full right to employ talents, and evaluate talents in terms of their representative achievements. We will expand the evaluation scope for the enterprises and institutions to make decisions on their own, perfect the green channel for evaluation and employment of urgently needed talents and high-level talents, and make professional titles evaluation socialized. We will establish a dynamic adjustment mechanism for the total performance pay in research institutions and an award mechanism for the competitive research project, improve the mechanism for researchers to share the achievements and benefits of their inventions, and build a revenue distribution mechanism that fully reflects the value of innovative elements such as knowledge and technology. We will ensure the smooth flow of talents between rural and urban areas, between regions, between industries and between different forms of ownership, and improve the policies and mechanisms for all types of talents to serve at the primary level and the front line. We will ensure that talents can actually enjoy comprehensive benefits, including incentives and subsidies, salaries, medical insurance, children's education, spouse's employment, convenient residence, and so on. We will accelerate the development of pilot zones for talent management reform and strive to build a province that excels in the central and western regions with the best talent ecology.
健全以创新能力、质量、实效、贡献为导向的科技人才评价体系,全面落实企事业单位用人自主权,下放人才评价权限,推行代表作评价。扩大职称自主评审范围,完善急需紧缺和高层次人才职称评聘"绿色"通道,推进社会化职称评审。建立科研单位绩效工资总量动态调整机制和竞争性科研项目奖酬金提取机制,完善科研人员职务发明成果权益分享机制,构建充分体现知识、技术等创新要素价值的收益分配机制。畅通城乡、区域、行业和不同所有制间人才流动渠道,完善各类人才下沉服务基层和一线的政策机制。全方位落实人才奖励补贴、薪酬待遇、医疗社保、子女入学、配偶就业、居留便利等优惠政策,加快人才管理改革试验区建设,努力打造中西部地区人才生态最优省份。
A special thanks goes to the Office of the Foreign Affairs Commission of the CPC Henan Provincial Committee and the School of International Studies of Zhengzhou University for their support to the "Wonderful Henan·Here We Are (Innovation)" bilingual series.
特别感谢河南省委外办、郑州大学外国语与国际关系学院对本次策划的大力支持。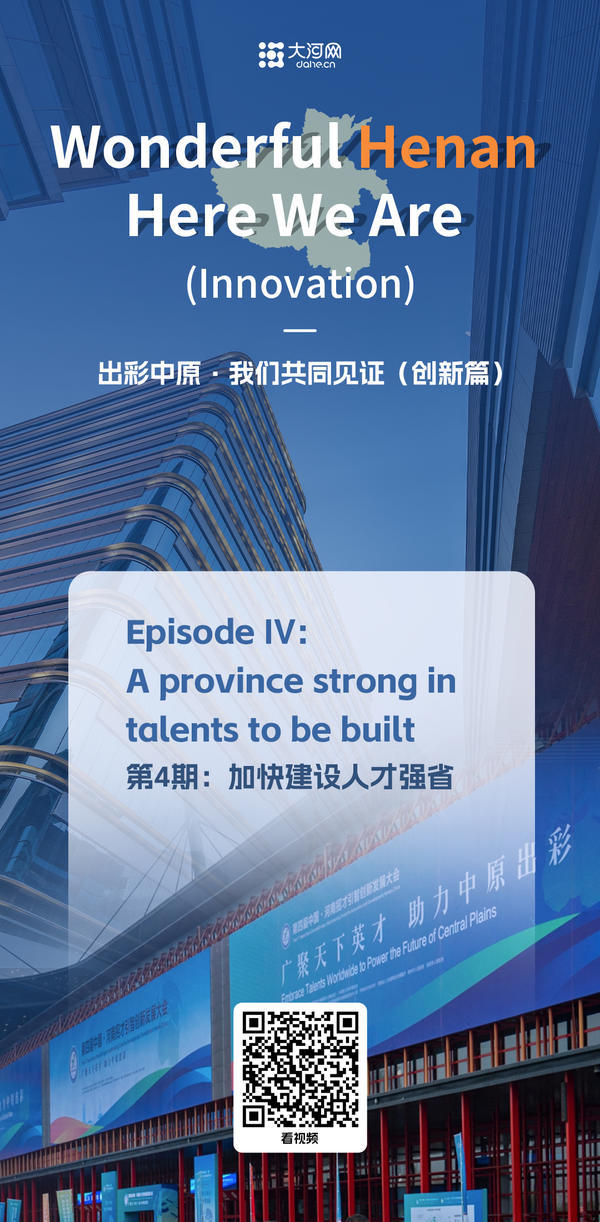 文案:赵汉青
播音:杨佳欣
视频:何蒙贺
海报:韩雨松
声明:该文观点仅代表作者,大河号系信息发布平台,大河网仅提供信息存储空间服务。