大河号
> 正文
【双语新闻】出彩中原·我们共同见证(创新篇)②|强化企业创新主体地位
Editor's note: Innovation will remain at the heart of China's modernization drive, General Secretary Xi Jinping remarked in the report delivered to the 20th National Congress of the Communist Party of China. Seizing the opportunity of China's initiative to optimize regional innovation layout, during the 14th Five-Year Plan period (2021-25), Henan will fully implement the strategy for invigorating the province through science and education, innovation and talent cultivation, and keep perfecting its institutional support for innovation to build new strengths for development in an all-round way. Starting November 1, we are launching the "Wonderful Henan·Here We Are (Innovation)" series to show you the measures Henan will take during the 14th Five-Year Plan period to build an innovation highland in Midwest China. The following is the 2nd story of the series: The leading role of enterprise innovation highlighted.
编者按:习近平总书记在党的二十大报告中提出,要坚持创新在我国现代化建设全局中的核心地位。抢抓国家优化区域创新布局机遇,"十四五"期间,河南将深入实施创新驱动、科教兴省、人才强省战略,不断完善创新体系,全面塑造发展新优势。11月1日起,大河网推出"出彩中原·我们共同见证(创新篇)"双语系列报道,看河南在"十四五"期间如何打造中西部创新高地。今日推出第2期:《强化企业创新主体地位》。
Click on the video
NB: This is not a word-for-word transcript
The Leading Role of Enterprise Innovation
强化企业创新主体地位
We will improve the mechanism to better guide enterprise innovation and tiered cultivation, speed up innovation in the fields of production organization, technology and markets in order to attract all kinds of innovation resources to enterprises, and form innovative enterprise clusters with leading innovative enterprises as pioneers, and high-tech enterprises along with small and medium-sized technology-based enterprises as the backbone.
完善企业创新引导促进和梯次培育机制,加快生产组织创新、技术创新和市场创新,促进各类创新要素向企业集聚,形成以创新龙头企业为引领、高新技术企业为支撑、科技型中小企业为基础的创新型企业集群。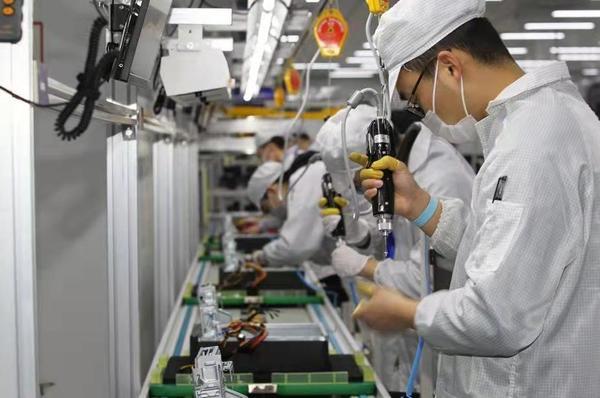 Huanghe Kunpeng server and desktop put into production in Xuchang. [Photo provided to dahe.cn]
Fostering and expanding the community of innovative enterprises
培育壮大创新企业群体
We will implement plans to develop some innovation-oriented enterprises as benchmarks and models, establish stratified standards for selection and cultivation, along with dynamic adjustment mechanism, focus on cultivating 100 "gazelle enterprises" and 100 leading innovation enterprises, and strive to bring forth about 10 "unicorn" (cultivation) enterprises. We will implement the plan to double the number of new and high-technology enterprises and strive to make the number exceed 10,000. We will implement a "bamboo shoot program" for small and medium-sized technology-based enterprises, improve mechanisms for incubation, cultivation and innovation capability evaluation, and strive to increase the number of these enterprises to 15,000. We will give full play to the leading and supporting role of large enterprises, improve mechanisms to integrate innovation among upstream and lower-stream businesses, and among large, small and medium-sized enterprises. A number of innovative micro, small and medium-sized enterprises will be encouraged to grow into important cradles of innovation.
实施创新型企业树标引领计划,建立分层次遴选培育标准和动态调整机制,重点培育100家"瞪羚"企业和100家创新龙头企业,力争涌现10家左右"独角兽"(培育)企业。实施高新技术企业倍增计划,力争高新技术企业突破1万家。实施科技型中小企业"春笋"计划,完善孵化培育和创新能力评估机制,争取科技型中小企业达到1.5万家。发挥大企业引领支撑作用,完善产业链上下游、大中小企业融通创新机制,推动一批创新型中小微企业成长为创新重要发源地。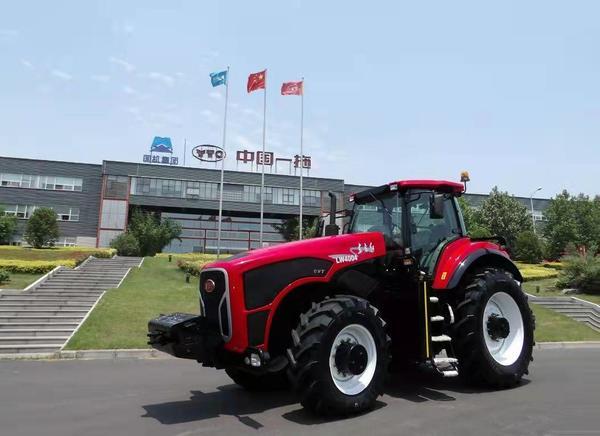 Dongfanghong-LW4004, the first 400-horsepower CVT tractor developed in China. [Photo provided to dahe.cn]
Enhancing enterprises' capacity for technological innovation
提升企业技术创新能力
We will divert more money into government awards and subsidies for enterprises' research and development, and fully implement preferential income tax policies for high-tech enterprises, including preferential deductions for R&D expenditures and preferential government procurement of innovative products. We will encourage all provincial-level cities to apply science and technology innovation vouchers and encourage enterprises to increase R&D investment. Moreover, we will improve policies to encourage state-owned enterprises' research and development, giving full play to the important role of entrepreneurs, encouraging enterprises to establish R&D institutes and platforms in various ways so as to ensure that all large and medium-sized industrial enterprises have R&D institutes at or above the provincial level. We will promote the in-depth integration of industries, universities and research institutes, support enterprises to take the lead in establishing innovation consortia, industrial research institutes and generic technology platforms so that they can undertake major national and provincial science and technology projects, innovation capacity-building projects, and core technology projects.
加大企业研发后补助等财政奖补力度,全面落实高新技术企业所得税优惠、研发费用加计扣除、创新产品政府优先采购等普惠性政策,推动科技创新券政策省辖市全覆盖,引导企业加大研发投入。健全鼓励国有企业研发的政策措施。发挥企业家重要作用,鼓励企业采取多种方式建设研发机构和平台,实现大中型工业企业省级以上研发机构全覆盖。推进产学研深度融合,支持企业牵头组建创新联合体、行业研究院、共性技术平台,承担国家和省重大科技项目、创新能力建设专项、关键核心技术攻关专项。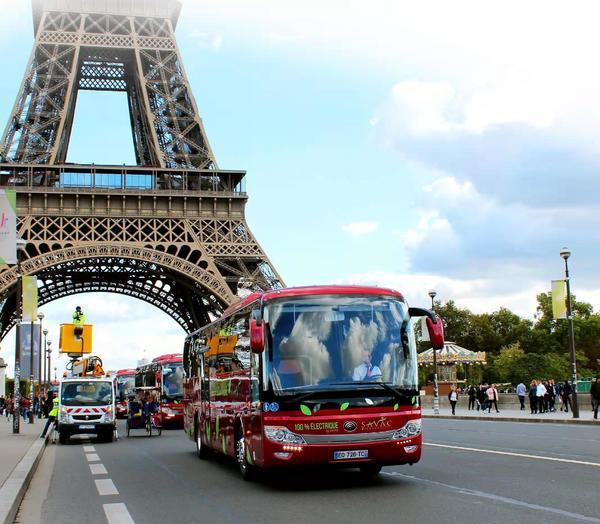 Zhengzhou Yutong Group sells its passenger coaches to over 40 countries and regions, accounting for 15% of the world's total. [Photo provided to dahe.cn]
Improving the enterprise innovation service system
完善企业创新服务体系
We will reform the management mechanism for government-funded industrial investment funds, establish a fault-tolerant mechanism for investment by enterprises in the seed stage and the initial stage, and a mechanism for government subsidies to build a service chain covering the whole process of fund-raising, investment, management and withdrawal. We will promote innovation in sci-tech financial services and products, further push forward the sci-tech loan business, and propel the building of sci-tech branches and other specialized institutions. We will actively introduce and foster venture capital investment and angel investment institutions, and support IPO financing of high-tech companies in the GEM Market (growth enterprise market), STAR Market (sci-tech innovation market), and the New OTC (new over-the-counter) Market. We will coordinate the building of business incubation carriers such as makerspaces, high-tech company incubators, university science parks and star creation worlds. We will further hold innovation and entrepreneurship competitions, actively develop the "internet platform plus business units" mode and others so that we can promote mechanism innovation of national and provincial-level demonstration bases for mass entrepreneurship and innovation, and speed up the formation of a breeding chain that links seedling nurseries, incubators, accelerators, and venture capital investment.
改革政府出资产业投资基金管理机制,建立种子期、初创期企业投资容错和政府让利机制,打造覆盖"募投管退"全流程服务链条。推动科技金融服务和产品创新,深入推进科技贷业务,推进科技支行等专营机构建设。积极引进培育创业投资和天使投资机构,支持科技企业在创业板、科创板、新三板上市挂牌融资。统筹众创空间、科技企业孵化器、大学科技园、星创天地等创业孵化载体建设,举办创新创业大赛等活动,积极发展"互联网平台+创业单元"等模式。推进国家和省级双创示范基地机制创新,加快形成"苗圃+孵化器+加速器+创投"的孵化育成链条。
A special thanks goes to the Office of the Foreign Affairs Commission of the CPC Henan Provincial Committee and the School of International Studies of Zhengzhou University for their support to the "Wonderful Henan·Here We Are (Innovation)" bilingual series.
特别感谢河南省委外办、郑州大学外国语与国际关系学院对本次策划的大力支持。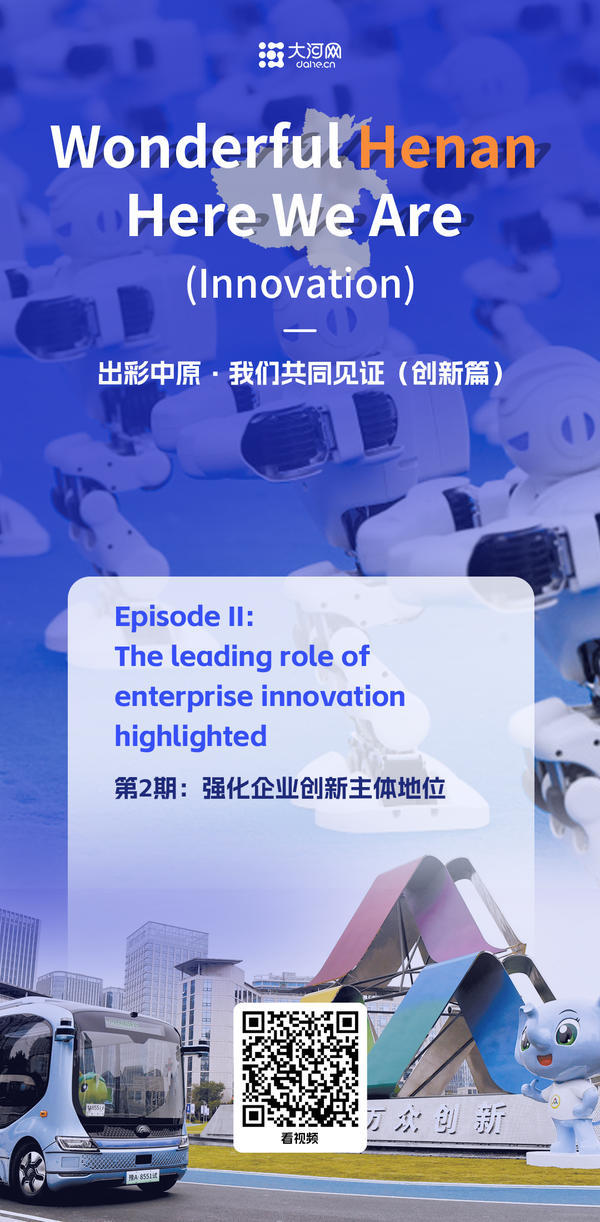 文案:赵汉青
播音:杨佳欣
视频:何蒙贺
海报:韩雨松
Related stories
相关报道
声明:该文观点仅代表作者,大河号系信息发布平台,大河网仅提供信息存储空间服务。