大河号
> 正文
【双语新闻】出彩中原·我们共同见证(创新篇)①|增强创新平台和载体支撑
Editor's note: Innovation will remain at the heart of China's modernization drive, General Secretary Xi Jinping remarked in the report delivered to the 20th National Congress of the Communist Party of China. Seizing the opportunity of China's initiative to optimize regional innovation layout, during the 14th Five-Year Plan period (2021-25), Henan will fully implement the strategy for invigorating the province through science and education, innovation and talent cultivation, and keep perfecting its institutional support for innovation to build new strengths for development in an all-round way. Starting today, we are launching the "Wonderful Henan·Here We Are (Innovation)" series to show you the measures Henan will take during the 14th Five-Year Plan period to build an innovation highland in Midwest China. The following is the 1st story of the series: Support for innovation platforms and carriers stressed.
编者按:习近平总书记在党的二十大报告中提出,要坚持创新在我国现代化建设全局中的核心地位。抢抓国家优化区域创新布局机遇,"十四五"期间,河南将深入实施创新驱动、科教兴省、人才强省战略,不断完善创新体系,全面塑造发展新优势。即日起,大河网推出"出彩中原·我们共同见证(创新篇)"双语系列报道,看河南在"十四五"期间如何打造中西部创新高地。今日推出第1期:《增强创新平台和载体支撑》。
Click on the video
NB: This is not a word-for-word transcript
Support for Innovation Platforms and Carriers
增强创新平台和载体支撑
Through reinforcing resources agglomeration, resources sharing, and carriers joint work, we will implement the initiative of building a province strong in science and technology, of building a Science and Technology Innovation Belt along the Yellow River and of establishing our own regional science and technology innovation center with the National Innovation Demonstration Zones in Zhengzhou, Luoyang and Xinxiang as the main carriers, the Zhengzhou-Kaifeng Science and Technology Innovation Corridor as the forerunner and high-tech zones as the network nodes.
实施科技强省行动,强化要素集聚、资源共享、载体联动,以郑洛新国家自主创新示范区为主载体、郑开科创走廊为先导、高新区为节点,建设沿黄科技创新带,努力形成国家区域科技创新中心。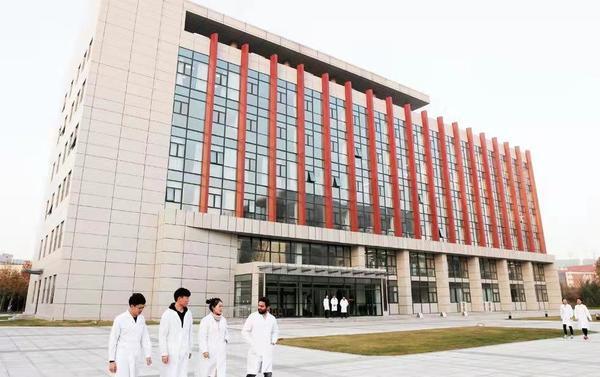 State Key Laboratory of Crop Stress Adaptation & Improvement in Henan. [Photo provided to dahe.cn]
Introducing and developing major science and technology innovation platforms
引进培育重大科技创新平台
Seizing the opportunity of our nation's initiative to optimize regional innovation layout, we will actively strive for the deployment of the major national innovation platforms and major science and technology infrastructure in Henan, participate in the building of national laboratories and key state laboratory system, accelerate the building of Yellow River Laboratory, Songshan Laboratory and Agricultural Supply Security Laboratory, and develop the innovation platforms and laboratories where conditions reach the national level. Furthermore, we will speed up resources integration and governance pattern transformation in traditional scientific research institutions, and encourage top universities, well-known scientific research institutions, as well as leading enterprises home and abroad to launch branches or research centers in Henan, so as to support the development of new research-oriented universities, to foster and introduce high-level R&D institutions, to explore and popularize multi-input and market-based management operation mechanism. In addition to these measures, we will accelerate the building of the Henan Industrial Technology Research Institute.
抢抓国家优化区域创新布局机遇,积极争取国家重大创新平台和重大科技基础设施布局,参与国家实验室和国家重点实验室体系建设,加快建设黄河实验室、嵩山实验室、农业供给安全实验室,推动具备条件的创新平台和实验室晋升为国家级。加快传统科研机构资源整合和治理模式转型,推动国内外一流高校、知名科研院所、龙头企业在豫设立分支机构和研发中心,支持新型研究型大学建设,培育引进高水平新型研发机构,探索推广多元投入和市场化管理运作机制。加快河南省产业技术研究院建设。
Zhengzhou-Luoyang-Xinxiang National Innovation Demonstration Zone/Specialized Robotics Center of CITIC Heavy Industries in Yibin district, Luoyang city. [Photo provided to dahe.cn]
Promoting the development of the National Innovation Demonstration Zones in Zhengzhou, Luoyang and Xinxiang
推动郑洛新国家自主创新示范区提质发展
We will deepen institutional mechanism reform and maintain the pilot policies, continue to explore the fields of talent training and introduction, market evaluation, transformation of scientific and technological achievements, integration of technology and finance, and improvement of the business environment, strengthen the building of platforms for key general-purpose technology innovation and transformation, and accelerate the flow of high-end innovation resources to enterprises. Moreover, we will reinforce the duplication and popularization of innovation policies and mechanisms, implement the "one district with multiple parks" project, comprehensively improve the capacity of the regional innovation system, and create an internationally competitive Henan innovation and entrepreneurship center.
加强体制机制改革和政策先行先试,持续开展人才培养引进和市场化评价、科技成果转化、科技金融结合、营商环境优化等领域探索,加强产业共性关键技术创新与转化平台建设,加速高端创新资源集聚。强化政策机制创新复制推广,做实"一区多园",全面提升区域创新体系整体效能,打造具有国际竞争力的中原创新创业中心。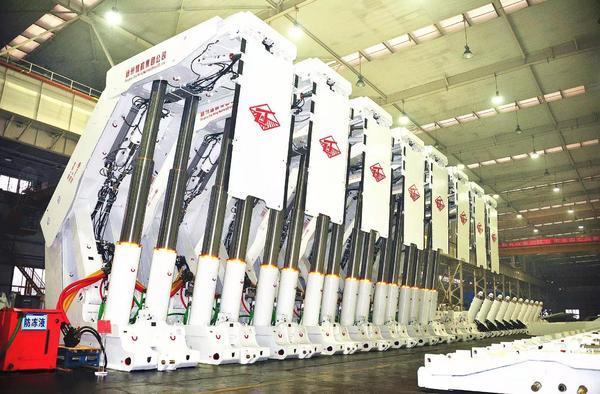 World's largest hydraulic support with the largest mining height produced by Zhengzhou Coal Mining Machinery Group. [Photo provided to dahe.cn]
Accelerating the building of Zhengzhou-Kaifeng Scientific Innovation Corridor
加快建设郑开科创走廊
With Scientific Avenue between Zhengzhou and Kaifeng as the axis, the Zhongyuan Science and Technology City as the leading unit, and with the White Sand Scientific Valley, the West Lake Digital Bay, and the Zhongyuan Data Lake as the primary nodes, we aim to promote the interactive development of Zhengzhou High-Tech Industrial Development Zone, Science and Education Park in Jinshui District, Longzihu Lake University Park and Kaifeng Vocational Education Park, to build the 100-Mile Innovation and Entrepreneurship Corridor, and to forge the innovation base to serve both our province and the nation. We will also establish a one-stop comprehensive service platform and create a first-class innovation ecosystem that integrates technology, talents, data and funds to attract a number of major scientific and technological innovation platforms, well-known universities and institutes, new research-oriented institutions, and innovative high-growth enterprises. Thanks to the integration of science and education, we are able to set up a knowledge-based economic circle around universities.
以郑开科学大道为轴线,以中原科技城为龙头,以白沙科学谷、西湖数字湾、中原数据湖为主要节点,推进郑州高新区、金水科教园区、龙子湖高校园区、开封职教园区联动发展,建设百里创新创业长廊,打造支撑全省、服务全国的创新策源地。建立"一站式"综合服务平台,营造技术、人才、数据、基金等集成协同的一流创新生态,加速集聚一批重大科创平台、知名高校院所、新型研发机构、创新型高成长企业。强化科教融合,打造环高校知识经济圈。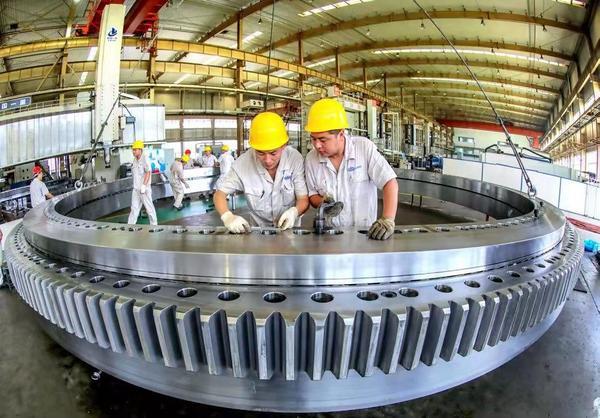 Largest and most accurate rolling bearing in Asia produced by Luoyang LYC Bearing. [Photo provided to dahe.cn]
Exploring and upgrading multilevel regional innovation carriers
拓展提升多层次区域创新载体
By optimizing the regional layout of innovation resources, developing science and technology parks like high-tech zones to a higher level, improving the mechanism of the output, transformation and industrialization of high-tech achievements, and by adding three to five national-standard high-tech zones, we will strive to achieve full coverage of high-tech zones above the provincial level in all provincially administered municipalities (including Jiyuan Industry-City Integration Demonstration Zone), to build a number of innovative featured parks, and to create national high-tech agriculture demonstration zones. We will support cross-regional configuration of innovation resources in hi-tech zones, explore off-site incubation, foster enclave economy and partner parks, along with other cooperative mechanisms in order to mobilize the development of regional economy integrated with science and technology. We will promote the coordinated development of innovation across regions, better the urban innovation ecosystem, explore innovative development paths for cities with their own features in light of local conditions and endeavor to build national innovative cities and counties (or administrative cities).
优化创新资源区域布局,推动高新区等科技园区提质发展,健全高新技术成果产出、转化和产业化机制,新增3—5家国家高新区,实现省级以上高新区省辖市(含济源示范区,下同)全覆盖,打造若干创新型特色园区,争创国家农业高新技术产业示范区。支持高新区跨区域配置创新要素,探索异地孵化、飞地经济、伙伴园区等多种合作机制,带动区域经济和科技一体化发展。促进各地创新协同发展,完善城市创新生态系统,因地制宜探索各具特色的城市创新发展路径,争创国家创新型城市和创新型县(市)。
A special thanks goes to the Office of the Foreign Affairs Commission of the CPC Henan Provincial Committee and the School of International Studies of Zhengzhou University for their support to the "Wonderful Henan·Here We Are (Innovation)" bilingual series.
特别感谢河南省委外办、郑州大学外国语与国际关系学院对本次策划的大力支持。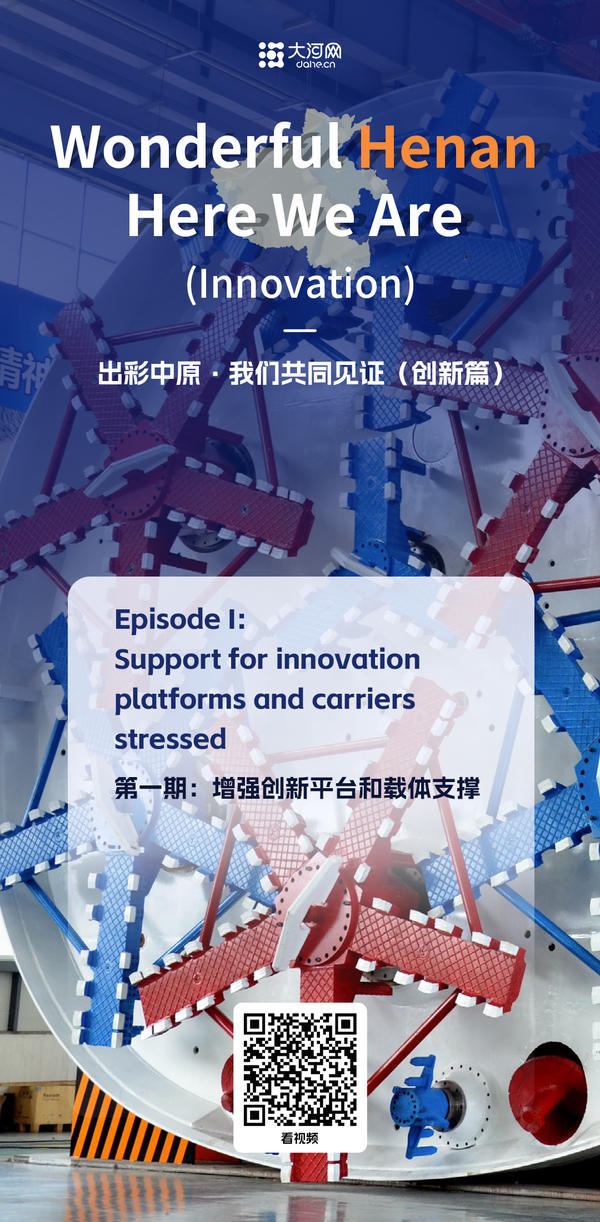 文案:赵汉青
播音:杨佳欣
视频:何蒙贺
海报:韩雨松
声明:该文观点仅代表作者,大河号系信息发布平台,大河网仅提供信息存储空间服务。