大河号
> 正文
【双语新闻】"出彩中原·我们共同见证"第1期:2035年的河南什么样?
Editor's note: What are the main objectives for economic and social development of Central China's Henan province during the 14th Five-Year Plan period (2021-2025)? How to establish a modern industrial system and build a stronger digital economy during the period? Starting today, we are launching the "Wonderful Henan·Here We Are" bilingual series, bringing you in-depth coverage about The Outline of the 14th Five-Year Plan (2021-2025) for National Economic and Social Development and Vision 2035 of Henan Province. The following is the 1st story of the series: What might Henan look like in 2035?
编者按:"十四五"时期,河南经济社会发展的主要目标是什么?如何加快建设现代产业体系?做大做强数字经济,哪些领域值得关注?即日起,大河网推出"出彩中原·我们共同见证"双语系列报道,以《河南省国民经济和社会发展第十四个五年规划和2035年远景目标纲要》为蓝本,通过动画短视频、图文报道等多种表现形式,带你全方位了解河南2035年远景目标和"十四五"时期经济社会发展主要目标、发展战略和重要举措。今日推出第1期:《2035年的河南什么样?》
Click on the video above
Full text:
全文:
Vision 2035
二〇三五年远景目标
By 2035, Henan Province will focus on striving for excellence, be committed to promoting high-quality development by high-quality Party building, and basically complete the building of a modern socialist Henan. We will build Henan into a strong province with a buoyant economy, a flourishing culture, open environment and healthy ecosystems, develop it into the center of innovation in central and western China and a happy homeland for Henan people.
展望二〇三五年,河南将紧紧围绕奋勇争先、更加出彩,坚持"两个高质量",基本建成"四个强省、一个高地、一个家园"的社会主义现代化河南。
Henan will promote high-quality development by high-quality Party building. The guiding role of ideological and political building will be strengthened, the role of fundamentals, infrastructure, and long-term development will be highlighted, a stronger atmosphere of learning, discipline and hard work will be cultivated, and the role of Party building in guiding the implementation of the new development philosophy, integrating into the new development pattern, and promoting high-quality development will be intensified.
以党建高质量推动发展高质量。思想政治统领更加有力,根本建设、基础建设、长远建设作用更加彰显,学的氛围、严的氛围、干的氛围更加浓厚,党建引领践行新发展理念、融入新发展格局、推动高质量发展的保证作用充分彰显。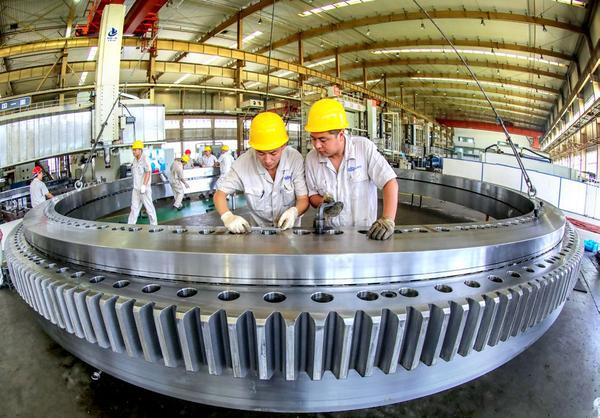 Largest and most accurate rolling bearing in Asia produced by Luoyang LYC Bearing. [Photo provided to dahe.cn]
We will build Henan into an economically strong province. Economic strength, comprehensive strength, quality and efficiency of development will increase significantly. The per capita GDP will reach the level of moderately developed countries. We will basically achieve new industrialization, enhanced IT application, urbanization and agricultural modernization, improve modern infrastructure and complete building a modern economic system.
经济强省。经济实力、综合实力大幅提升,发展质量和效益大幅提升,人均地区生产总值力争达到中等发达国家水平,基本实现新型工业化、信息化、城镇化、农业现代化,现代化基础设施体系更加完善,建成现代化经济体系。
We will build a culturally rich Henan Province. A coordinated cultural-ethical and material progress will be promoted. The well-rounded development of citizens and social etiquette and civility will be significantly enhanced. We will be a leader in cultural programs and industries in China and achieve in-depth and comprehensive integration between culture and tourism. The communication capacity and influence of Yellow River Culture will become more extensive and far-reaching, and its cultural soft power will grow much stronger.
文化强省。社会主义精神文明和物质文明协调发展,公民素质和社会文明程度达到新高度,文化事业和文化产业发展进入全国先进行列,文化旅游全面深度融合,黄河文化传播力和影响力更加广泛深远,文化软实力显著增强。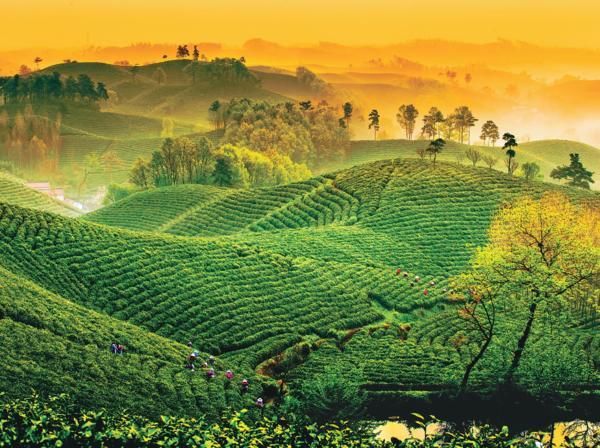 Tea garden in Nanwan Reservoir, Xinyang City. [Photo provided to dahe.cn]
We will build an environment-friendly Henan Province. We will ensure that the space for production is used safely and efficiently, that the living space is comfortable and livable, and that the ecological space is unspoiled and beautiful, taking the lead in achieving a healthy and stable ecosystem in the Yellow River basin. Eco-friendly work and lifestyle will be advanced to cover all areas of society. Carbon dioxide emissions will steadily decline after reaching a peak. There will be a fundamental improvement in ecological system and ecological economic advantage will be intensified. We will basically build a modern Henan where humanity and nature harmoniously co-exist.
生态强省。生产空间安全高效、生活空间舒适宜居、生态空间山清水秀,在黄河流域率先实现生态系统健康稳定,绿色生产生活方式广泛形成,碳排放达峰后稳中有降,生态环境根本好转,生态经济优势彰显,基本实现人与自然和谐共生的现代化。
We will build a highly open Henan Province. The level of integrating regional development into the joint pursuit of the Belt and Road Initiative will be greatly enhanced. High-level trade and investment liberalization and facilitation will be achieved. The business environment will be one of the best in China. The position as an important pillar of the domestic circulation and a strategic link between domestic and international circulation will be basically established. And the strengths of opening-up will be significantly enhanced.
开放强省。融入共建"一带一路"水平大幅提升,贸易和投资实现高水平自由化便利化,营商环境进入全国先进行列,国内大循环重要支点和国内国际双循环战略链接地位基本确立,开放优势显著增强。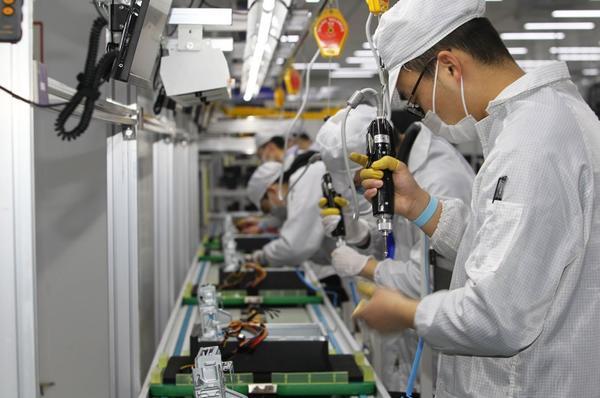 Huanghe Kunpeng server and desktop are put into production in Xuchang City. [Photo provided to dahe.cn]
We will develop Henan into a high platform of innovation in central and western China. With flourishing innovation and entrepreneurship and some breakthroughs in core technologies in key areas, scientific and technological innovation plays a more important role in supporting economic growth. Henan will be built into a powerful province in terms of human capital, and rank top among innovation-oriented provinces in China.
中西部创新高地。创新创业蓬勃发展,重点领域关键核心技术实现突破,科技创新对经济增长的支撑作用大幅提升,建成人才强省,创新型省份建设进入全国先进行列。
We will build Henan into a happy home for the Henan people. We will modernize the governance system and capacity, and the rights of the people to participate and to develop as equals will be adequately protected. The peaceful Henan initiative will be pursued at a higher level and the law-based province will be comprehensively put in place. People's income will reach a new high and the size of the middle-income group will be significantly expanded. Equitable access to basic public services will be ensured. Disparities in development between urban and rural areas and between regions, and in living standards will be significantly reduced. A positive and healthy lifestyle will be publicized extensively and Henan will become a strong province in terms of education and health. More notable and substantial progress will be achieved in well-rounded human development and in common prosperity for all.
幸福美好家园。治理体系和治理能力现代化基本实现,人民平等参与、平等发展权利得到充分保障,平安河南建设达到更高水平,法治河南基本建成;居民收入迈上新的大台阶,中等收入群体显著扩大,基本公共服务实现均等化,城乡区域发展差距和居民生活水平差距显著缩小,文明健康生活方式全面普及,建成教育强省和健康中原,人的全面发展、全体人民共同富裕取得更为明显的实质性进展。
A special thanks goes to the Office of the Foreign Affairs Commission of the CPC Henan Provincial Committee and the School of International Studies of Zhengzhou University for their support to the "Wonderful Henan·Here We Are" bilingual series.
特别感谢河南省委外办、郑州大学外国语与国际关系学院对本次策划的大力支持。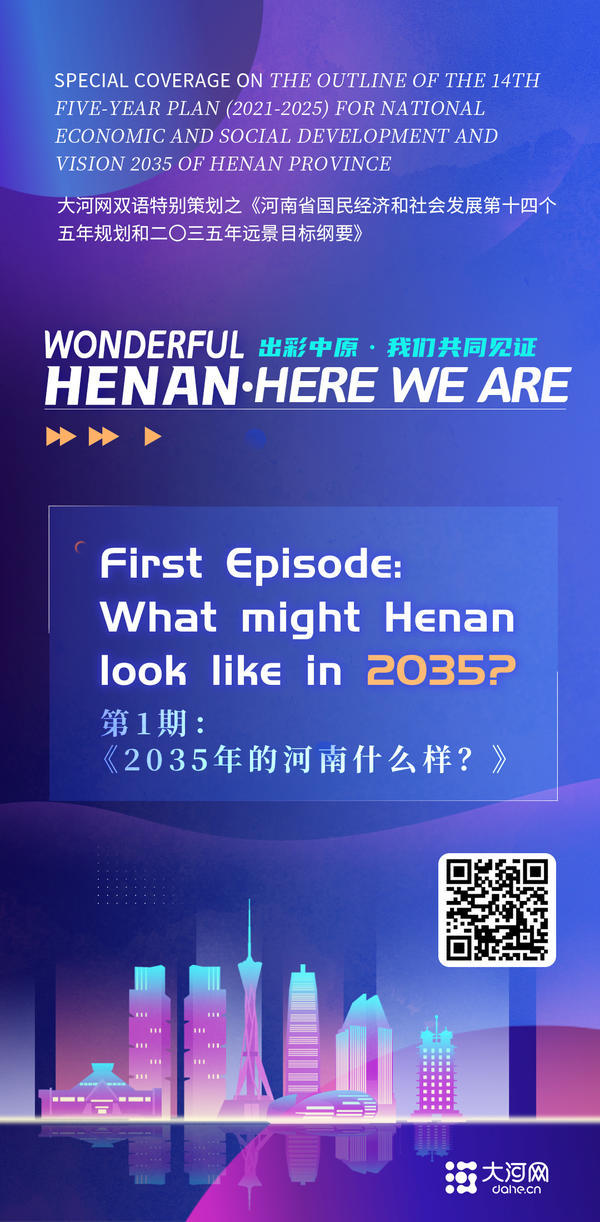 统筹:李敬欣 张培君
文案:赵汉青
播音:杨佳欣
视频:何蒙贺
海报:赵原歌
声明:该文观点仅代表作者,大河号系信息发布平台,大河网仅提供信息存储空间服务。